Directory of Freshwater Fish
Cichlids
Discus
Blue Discus (Symphysodon aequifasciatus)
ORIGINS: South America, from Rio Putumayo in Peru eastward through the Amazon basin in Brazil.
SIZE: 8 in (20 cm).
DIET: Discus foods and small live foods.
WATER: Temperature 75–84°F (24–29°C); soft (50–100 mg/l) and acidic (pH 6.0).
TEMPERAMENT: Quite placid and social.
Black Angelfish The black pigmentation on the fins and body of these fish keeps their striped patterning largely hidden. The body also shows green iridescence. The Blue Discus, named after its disk body shape, has grown in popularity over recent years thanks to the wide range of color varieties available. Four basic forms are known in the wild. The green form originates from the upper Amazon, while a brown variety is found around Belem and Manaus, closer to the river's mouth. Reddish fish occur near the Amazonian town of Alenquer, and a bluish strain was discovered in the Rio Purus, Rio Manacapura, and nearby lakes. Wild Heckel's Discus from the Rio Negro is a separate species (Symphysodon discus), but commercially available forms may be hybrids developed in breeding programs with the Blue Discus.
These fish need a relatively tall tank, because of their body shape, and water conditions that mimic the blackwater environment that they naturally inhabit. If kept in less-than-ideal conditions, they are at risk from various diseases, including the parasitic illness known as hole-in-the-head (see p.58). Blue Discus are best housed as a group in a single-species setup, although this demands a large tank with efficient filtration, supported by regular partial water changes.
Once they are mature—by the time they are just over 4 in (10 cm) in length—the females can be identified (on close examination) by the rounded profile of the forehead, which has a more humped appearance in the males. The genital area behind the long, thin pelvic fin is a further aid to sexing this species, since the male's sperm duct is narrow and triangular in shape, while the female's egg-laying tube, or ovipositor, is broader and more rectangular in appearance.
Breeding pairs must be housed on their own in a tank that contains rockwork, such as slate, on which the fish can spawn. If the tank incorporates a thermostatic heater, this should be kept in a special heater guard; otherwise, any eggs that are laid near it will be destroyed. Prior to spawning, the fish clean their chosen site, where the female subsequently deposits 200–400 eggs. Pairs spawning for the first time may eat their eggs, particularly if they are disturbed during this period. Even so, the pair will probably spawn again before long, especially if live foods feature prominently in their diet. It can take up to ten attempts before they are successful. Blue Discus show great parental care and often help the fry to hatch from their eggs.
Turquoise Discus Much of the early development of this variety was undertaken in Germany. The facial markings on each of these fish are unique.White Discus These fish will make a striking contrast, housed alongside more colorful individuals, although they are not very common.
Blue Diamond Discus The darker markings on this fish are almost invisible; the blue coloration is intense over the entire body.
Turquoise Discus Much of the early development of this variety was undertaken in Germany. The facial markings on each of these fish are unique.
Snakeskin Discus These attractive fish are individually patterned, with their markings said to resemble the scaled patterning of a snake.
Yellow Panda Discus The depth of coloration in this case is typically like that of a yellow canary, with some white markings in evidence.
Cobalt Blue Discus As its name suggests, this variety displays a rich blue color over its entire body and is largely free of darker markings. Orange Discus The origins of this variety are thought to lie in Asia. The coloration of these discus can be intensified by color-feeding.
Blue Spotted Snakeskin Discus The lines of the snakeskin form are reduced to a pattern of separate spots here, on the flanks.
Red-Spotted Leopard Discus Vivid red markings set against a blue background typify this variety, but not all fish from the same spawning are necessarily well marked.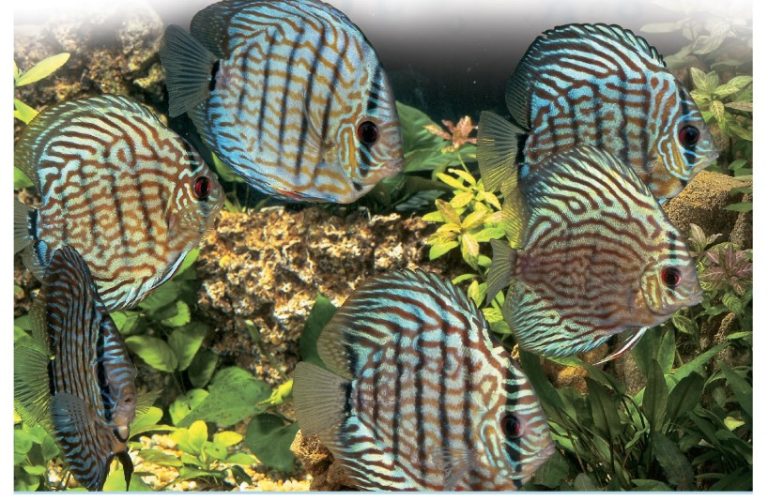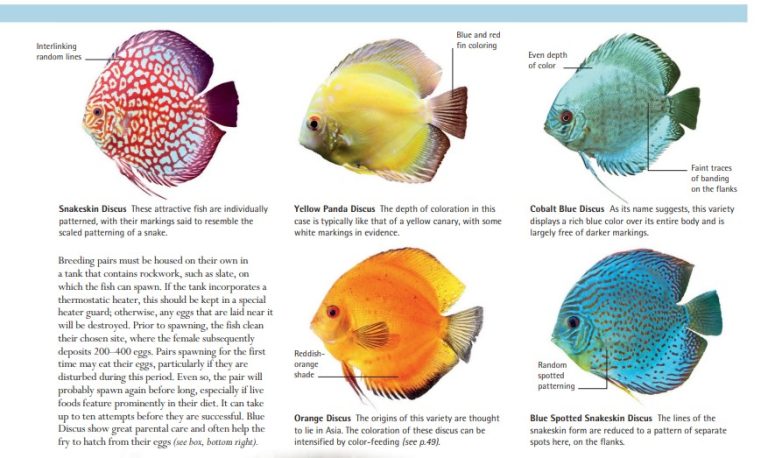 NOURISHING THE YOUNG
Discus fry are often seen swimming alongside their parents, nibbling at their flanks. They do this to obtain discus milk—a secretion that adults produce to nourish the fry. The "milk" may also contain immunoglobulins to protect the young fish from infections until their own immune systems are fully functioning. Discus fry that grow up with their parents develop at a faster rate than those reared in isolation, indicating the benefit of discus milk.