Directory of Freshwater Fish
Characoids
Predatory species
DREADED HUNTERS
Few fish inspire greater fear than piranhas. While many predatory fish live solitary lives, piranhas are like packs of wolves, living and hunting together in groups and occasionally taking prey as large as horses or even people. Indeed, keeping these notorious fish is outlawed in some parts of the world because of fears over their likely impact if they were to become established in the wild outside their normal range. Piranhas have a sharp sense of smell, which enables them to detect blood in the water. Repeated splashing, indicating a creature out of its depth, is equally likely to attract the attention of a hungry shoal. They then go into a feeding frenzy, ripping repeatedly into their victim, using their sharp teeth to pull off mouthfuls of flesh. The short upper jaw helps the fish to gain a firm anchorage, while the powerful lower jaw provides strength, enabling the small, triangular, interlocking teeth to shear through tissue with ease. Being instinctive bullies, piranhas will turn on weak or injured members of their own kind, especially if just two or three are housed in a tank. A larger group, from five upward, will reduce the likelihood of this, since there will be less of an established hierarchy within the shoal.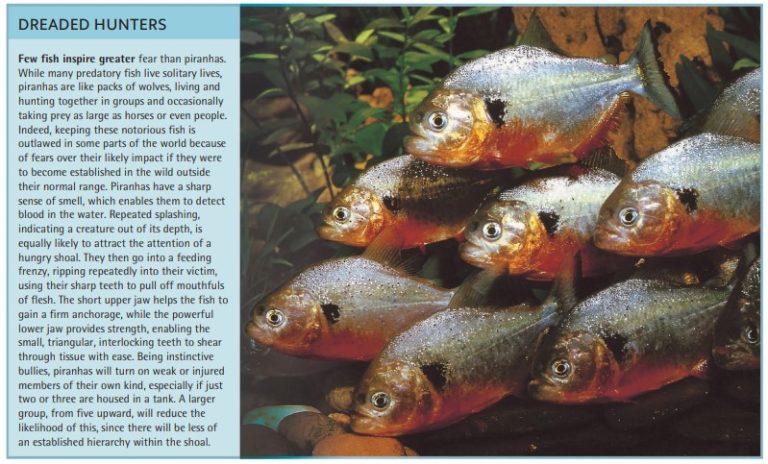 Red-Bellied Piranha (Serrasalmus nattereri)
ORIGINS: South America, in both the Orinoco and Amazon River basins, from Guyana south to La Plata.
SIZE: 12 in (30 cm).
DIET: Meat-based foods and live foods.
WATER: Temperature 77–81°F (25–27°C); soft (50–100 mg/l) and acidic (pH 6.5).
TEMPERAMENT: Aggressive and territorial.
Red-Bellied Piranhas require a spacious setup, decorated with some bogwood to provide retreats, as well as subdued lighting and a good filter. They are not active fish by nature, except when feeding. Adults have a silvery, speckled appearance with red on the underparts. Juveniles also have black spots on their bodies. Piranhas can inflict a painful bite. Large individuals can bite through cabling, so an undergravel heating unit is advisable.
Ornate Fin-Nipper (Ichthyborus ornatus)
ORIGINS: Occurs in the tropical area of western Africa, where it is found in the Zaire basin.
SIZE: 8 in (20 cm).
DIET: Larger aquatic invertebrates and fish-based foods.
WATER: Temperature 73–82°F (23–28°C); hard (100–150 mg/l) and neutral (pH 7.0).
TEMPERAMENT: Aggressive yet shy.
The silvery underparts and the brown on the upper body help to set this highly predatory species apart from related fin-nippers, including the African Pike Characin (P. loricatus). The term "fin-nipper" comes from their habit of biting pieces from the fins of fish that are too large to swallow whole. Keep them separate, therefore, in a relatively dark yet well-planted tank. It must offer adequate retreats, since all fin-nippers are nervous.
Bucktooth Tetra (Exodon paradoxus)
ORIGINS: South America, occurring in various localities in the Amazon basin from Guyana to Brazil.
SIZE: 6 in (15 cm).
DIET: Thawed, freeze-dried, and fresh live foods.
WATER: Temperature 73–82°F (23–28°C); hard (up to 200 mg/l) and neutral (pH 7.0).
TEMPERAMENT: Not suitable for a community aquarium.
These large tetras have a distinctive black spot just in front of and below the dorsal fin, with another on the caudal peduncle. Beautiful they may be, but they are brutal, too, simply slicing chunks out of prey that are above swallowable size. Keep Bucktooth Tetras in shoals of a dozen or so to lessen their aggressive tendencies; even the young will cannibalize one another. Adding peat to the filter (see p.46) will create good water conditions.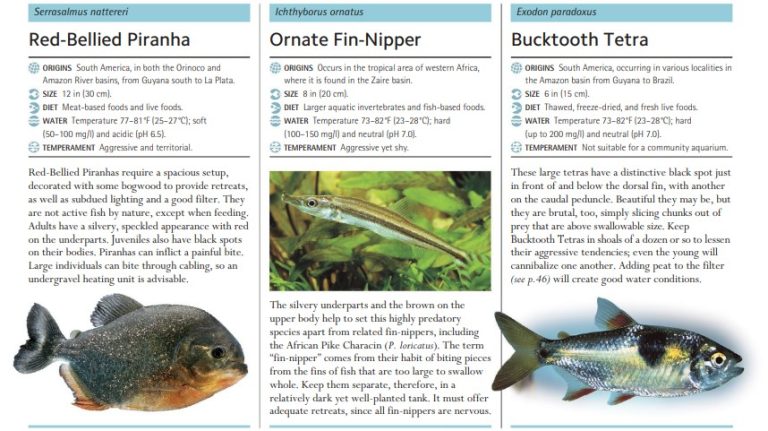 Gar Characin (Ctenolucius hujeta)
ORIGINS: South America, ranging from Panama southward to Colombia and Venezuela.
SIZE: 12 in (30 cm).
DIET: Invertebrates and fish-based diets.
WATER: Temperature 72–77°F (22–25°C); hard (up to 200 mg/l) and neutral (pH 7.0).
TEMPERAMENT: Aggressive but nervous.
The upper jaw of these fish is slightly shorter than the lower jaw. They are predominantly silvery in color, but there are slight differences between the three recognized subspecies. A tank for Gar Characins needs a clear area for swimming, with a good water current created by the filter. A dense surface covering of aquatic plants is also needed. When mating, the male uses his anal fin to hold the female's abdomen. Anywhere from 1,000 to 3,000 eggs may be laid during a single spawning, and the fry hatch within a day
Torpedo Pike Characin (Acestrorhynchus altus)
ORIGINS: South America, occurring in both the Amazon basin and the more southerly Paraguay basin.
SIZE: 14 in (35 cm).
DIET: Larger invertebrates and prepared foods.
WATER: Temperature 72–79°F (22–26°C); hard (up to 200 mg/l) and neutral (pH 7.0).
TEMPERAMENT: Predatory, best kept alone.
This is a more colorful form of the Amazon Cachorro (A. falcirostris), displaying attractive reddish coloration on the caudal and anal fins. There is also a large black spot at the base of the caudal fin and others farther up the body near the gills. When designing an aquarium for these fish, be sure to incorporate sufficient retreats so that they will not injure themselves by swimming into the glass. Floating plants will make them feel more secure.
Pink-Tailed Characin (Chalceus macrolepidotus)
ORIGINS: Northern South America, particularly the Guianas and the Amazon basin.
SIZE: 10 in (25 cm).
DIET: Thawed, fresh, and freeze-dried live foods.
WATER: Temperature 73–82°F (23–28°C); hard (100–150 mg/l) and neutral (pH 7.0).
TEMPERAMENT: Aggressive and predatory
Pink-Tailed Characins have a slim body and a relatively large and deeply forked tail fin. These fish need spacious surroundings but are quite adaptable as far as water conditions are concerned. The young may be persuaded to eat flake food and subsequently encouraged to take tablets. The species must never be mixed with smaller companions, which are likely to be eaten. These characoids can be long-lived, with a life expectancy in aquariums of nearly 20 years.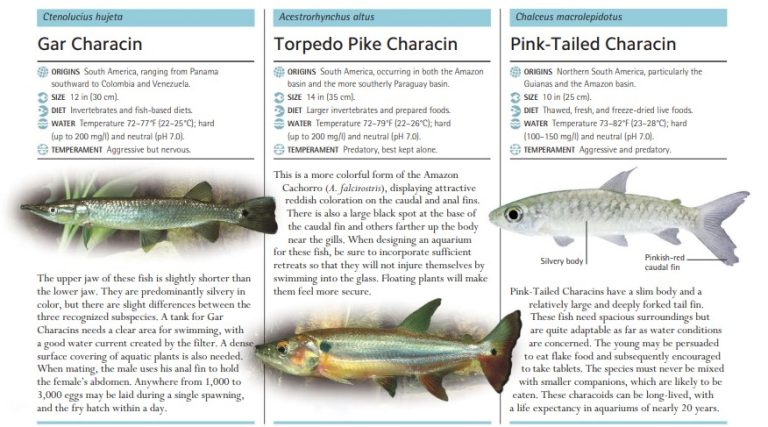 Wolf Fish (Hoplias malabaricus)
ORIGINS: Occurs throughout much of Central America and northern parts of South America.
SIZE: 20 in (50 cm).
DIET: Live foods and fish-based foods.
WATER: Temperature 72–81°F (22–27°C); hard (100–150 mg/l) and neutral (pH 7.0).
TEMPERAMENT: Aggressive and predatory.
Attractive patterning and a relatively tall, banded dorsal fin are characteristic features of Wolf Fish. Males are slimmer, while females have a slight upward curvature to the lower surface of their body when viewed in profile. One difficulty with keeping Wolf Fish and similar predatory characoids is persuading them to take an inert diet rather than smaller fish, which are their natural prey. This is more easily achieved by starting out with juveniles, which are more adaptable in their feeding habits.
Kafue Pike Characoid (Hepsetus odoe)
ORIGINS: Widely distributed throughout much of tropical Africa, although absent from the Nile basin.
SIZE: 28 in (70 cm).
DIET: Thawed and fresh meat-based foods.
WATER: Temperature 79–82°F (26–28°C); hard (100–150 mg/l) and neutral (pH 7.0).
TEMPERAMENT: A powerful predator.
Although young Kafue Pike Characoids are occasionally available, bear in mind when thinking of buying one that it will grow fast and eventually require a very large aquarium. The predatory habits of these fish mean that they are best housed alone. The tank must afford plenty of cover, since they are instinctively nervous and like to hide away in vegetation or caves, which can be created with bogwood as well as rockwork. Take particular care with a newly acquired individual that has not yet settled in the aquarium, because it is likely to swim around wildly and could injure itself while you are attending to its needs. The eggs, which the female guards, hatch in a bubble nest, suggesting an affinity with anabantoids (see pp. 104–115). Successful breeding in aquariums is highly unlikely.