Synonyms
Xiphostoma maculatum Valenciennes, 1850 and Xiphostoma taedo Cope, 1872.
Etymology
The genus Boulengerella is named after the Belgian-British zoologist George Albert Boulenger (1858-1937). The species name maculata comes from the Latin word "maculata", meaning "spotted", in reference to the species' distinctive spotted color pattern.
Classification
Ctenoluciidae.
Distribution
The type locality of this species is listed as the 'Amazon River, Brazil', but it is now known to be distributed across a much wider area that includes the Amazon, Orinoco, and Tocantins river systems. This species has been recorded in various regions including Ecuador, Colombia, Peru, Brazil, and Venezuela.
There are some distinct differences in populations of this species from different regions. For example, populations from Peru, the Leticia area of Colombia, and the Rio Javari basin in Brazil have been found to have different numbers of vertebrae and pored lateral line scales compared to those from the lower Amazon and Rio Orinoco.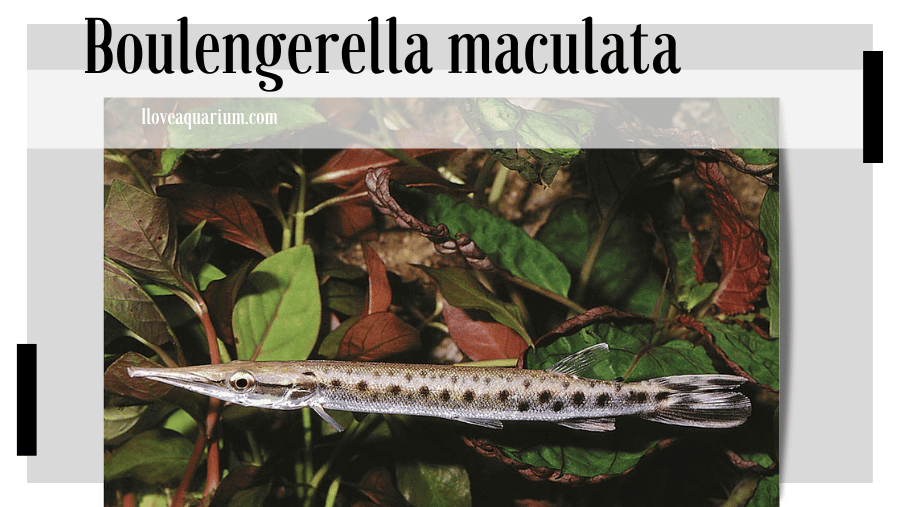 Despite these differences, this species is generally well adapted to life in freshwater environments and can be found in a variety of habitats including main river channels, tributaries, and floodplain lakes. They are known to feed primarily on smaller fish and insects, but can also adapt to a variety of other food sources in captivity.
In the wild, this species plays an important role in the aquatic ecosystem as both predator and prey. They are preyed upon by larger fish and birds, while also feeding on a variety of small insects and crustaceans.
When kept in captivity, it is important to provide this species with a well-maintained aquarium that mimics their natural environment. This may include plants, hiding places, and moderate water flow. They prefer slightly acidic to neutral water with a temperature range of 73-81°F (23-27°C). They are generally peaceful and can be kept with other peaceful species, but may become aggressive towards their own kind if not kept in groups.
Habitat
This particular species is known to be pelagic and tends to be found in flowing stretches of main river channels and larger tributaries of both white and black water rivers, as well as in floodplain lakes, especially during its adult stage.
Maximum Standard Length
The largest specimen of this species that has been officially recorded measured 329 mm in length.
Aquarium Size
It is recommended to use an aquarium with base dimensions of 240 x 90 cm or larger.
Maintenance
Although relatively undemanding, this species appreciates some surface cover in the form of floating or overhanging vegetation or branches. It thrives in water with a high proportion of dissolved oxygen and a moderate degree of water movement, so external filters, powerheads, airstones, and other equipment should be used as needed.
Because stable water conditions are crucial to its well-being, this fish should never be introduced into biologically immature aquariums. Weekly water changes of 30-50% of the aquarium volume should be considered mandatory.
Since Boulengerella species are known to be prodigious jumpers, it is essential to use a tightly-fitting cover on the aquarium. It may also be beneficial to cover the back and sides of the aquarium to reduce the likelihood of the fish swimming into the glass, especially in confined surroundings where it can be skittish.
Water Conditions
Temperature: 22 – 28 °C
pH: 5.0 – 7.5
Hardness: 18 – 215 ppm
Diet
This species is an obligate predator in the wild and feeds mainly on smaller fishes and insects. However, in captivity, it can adapt well to dead alternatives. Smaller specimens can be offered bloodworm, small earthworms, chopped prawn, and similar foods, while adults will accept strips of fish flesh, whole prawns/shrimp, mussels, live river shrimp, and larger earthworms.
Insects such as crickets are also suitable to feed, but it's best to fill their stomachs by feeding them fish flakes or some type of vegetable matter before offering them to the fish.
As with most predatory fish, this species should not be fed mammalian or avian meat, such as beef heart or chicken. Some of the lipids contained in these foods cannot be properly metabolized by the fish and can lead to excess fat deposits and even organ degeneration.
Similarly, there is no benefit to using "feeder" fish, such as livebearers or small goldfish. These fish can introduce parasites or diseases to the aquarium, and they tend not to have high nutritional value unless they are properly conditioned beforehand.
Behaviour and Compatibility
Peaceful with anything too large to swallow and can be maintained in a community provided tankmates are chosen with care.
It's recommended to avoid adding aggressively territorial or very competitive species to the tank with this fish. Instead, the best tankmates are similarly-sized, peaceful fishes such as Geophagus or Acestrorhynchus species and many doradid or loricariid catfishes.
This species is not aggressive towards its own kind, and juveniles in particular exhibit a marked schooling instinct. While older individuals tend to be more solitary, they still group together from time-to-time. Therefore, it's best to maintain them in groups of four or more for their well-being.
Reproduction
Unrecorded.
Notes
This species goes by several common names, including Bicuda or Uena in Brazil, Picudo in Ecuador, Picudo or Garza-challua in Peru, and Aguejeta in Venezuela.
The placement of the dorsal fin on this fish is mostly towards the back of the body, behind a vertical line drawn from the origin of the anal fin. This feature helps distinguish it from all other species in the same genus, except for B. lateristriga.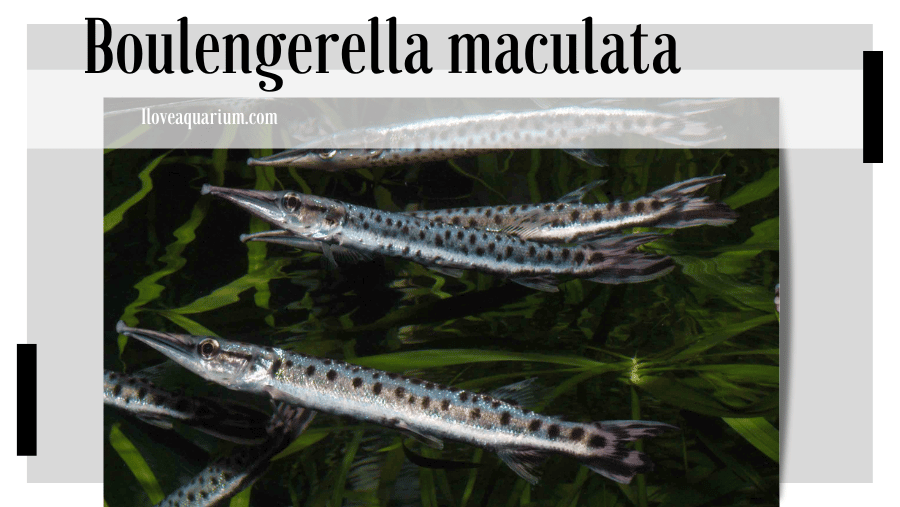 B. maculata can be distinguished from B. lateristriga by the presence of a thin, horizontal dark stripe only on the postorbital surface of the head in some specimens (rather than a prominent thin, dark stripe always extending from the rear of the orbit to the caudal peduncle), the lack of distinct, dark crossbars on the lobes of the caudal fin, the presence of randomly-distributed dark spots on the upper body, and a longer dorsal fin compared to B. lateristriga. Additionally, B. maculata has 73-84 predorsal scales and 17-23 scale rows between the dorsal fin origin and ventral midline, whereas B. lateristriga has 55-65 predorsal scales and 14-17 scale rows in the same area.
Both species have a broader dark midlateral stripe on their bodies, but it is more distinct in B. lateristriga. The color pattern of B. maculata can vary considerably, with some individuals being noticeably paler than others, and the broad midlateral stripe usually being less intense in these individuals.
There appears to be no discernible pattern in the distribution of Boulengerella across its range, but certain characteristics may be correlated with water type rather than geographic location.
Boulengerella can be distinguished from Ctenolucia, the only other genus in the family Ctenolucidae, by a number of features including having 87-124 (vs. 45-50) lateral line scales, a strongly (vs. weakly) developed fleshy appendage at the tip of the snout, and an absence (vs. presence) of fleshy flaps on the lower jaw.
Within the order Characiformes, the Ctenoluciidae family is further characterized by certain synapomorphic features, such as a tapered body shape, elongated jaw shape, and possession of many small teeth with curved tips arranged in a single series in each jaw.
The Characiformes order is known for its great diversity, with close to 2000 valid species distributed across 19 families. This taxonomic and morphological diversity has historically made it difficult for researchers to accurately determine genetic relationships between species, with many genera remaining unresolved. In some cases, individual study is the only way to address these issues.
Recent advances in molecular phylogenetics have enabled researchers to better understand the evolutionary relationships among different fish families. In 2005, Calcagnotto et al. published a study which suggested that the family Ctenoluciidae belongs to a trans-Atlantic, monophyletic clade alongside the families Lebiasinidae and Hepsetidae.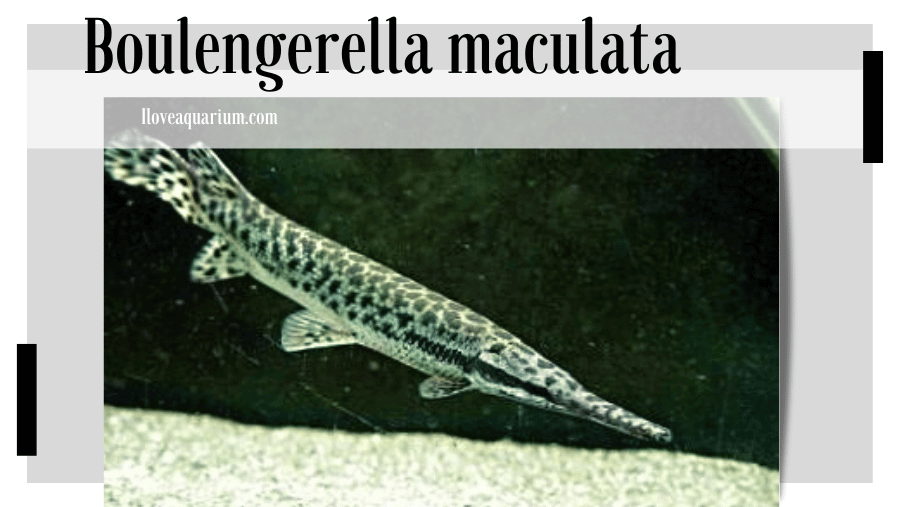 This clade further forms a sister group to Alestidae. However, other researchers such as Oliveira et al. in 2011 have concluded that the family Erythrinidae is also closely related to this grouping, with Hepsetidae and Alestidae being more distantly related. The use of molecular techniques has provided valuable insights into the evolutionary relationships of fish families, aiding in our understanding of the diversity of life in aquatic ecosystems.
References
Cuvier, G. and A. Valenciennes , 1850 – Histoire Naturelle des Poissons v. 22: i-xx + 1 p. + 1-532 + 1-91
Suite du livre vingt-deuxième. Suite de la famille des Salmonoïdes.
Calcagnotto, D., S. A. Schaefer and R. De Salle, 2005 – Molecular Phylogenetics and Evolution 36(1): 135-153
Relationships among characiform fishes inferred from analysis of nuclear and mitochondrial gene sequences.
Oliveira, C. A., G. S. Avellino, K. T. Abe, T. C. Mariguela, R. C. Benine, G. Orti, R. P. Vari, and R. M. Corrêa e Castro, 2011 – BMC Evolutionary Biology 11(1): 275-300
Phylogenetic relationships within the speciose family Characidae (Teleostei: Ostariophysi: Characiformes) based on multilocus analysis and extensive ingroup sampling.
Reis, R. E., S. O. Kullander and C. J. Ferraris, Jr. (eds.), 2003 – EDIPUCRS, Porto Alegre: i-xi + 1-729
Check list of the freshwater fishes of South and Central America. CLOFFSCA.
Vari, R. P., 1995 – Smithsonian Contributions to Zoology 564: 1-97
The Neotropical fish family Ctenoluciidae (Teleostei: Ostariophysi: Characiformes): supra and intrafamilial phylogenetic relationships, with a revisionary study.