Etymology
Cyprinodon is a genus of small freshwater fish in the family Cyprinodontidae. As you mentioned, the name is derived from the Greek words κυπρῖνος (kuprinos), meaning 'carp', and ὀδούς (odous), meaning 'tooth'. This likely refers to the fact that many species in this genus have small, sharp teeth that they use to feed on small invertebrates and other aquatic organisms.
Brontotheroides, on the other hand, is an extinct genus of rhinoceros-like mammals that lived during the Eocene epoch, approximately 37-48 million years ago. The name Brontotheroides comes from the Greek word βροντή (brontē), meaning 'thunder', and the suffix -theroides, which means 'resembling' or 'related to'. This name was chosen because of the animal's resemblance to the brontotheres, a group of large, herbivorous mammals that lived during the Eocene and Oligocene epochs. Brontotheres were known for their distinctive, bony protrusions on their skulls, which some scientists believe may have been used for display or combat. Brontotheroides, on the other hand, had a similar but much more exaggerated nasal structure that has been likened to a pair of horns.
Classification
Order: Cyprinodontiformes
Family: Cyprinodontidae
Distribution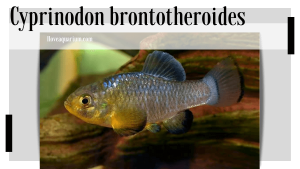 This aquatic organism is exclusive to San Salvador Island in the Bahamas and is found in six hypersaline lakes: Crescent Pond, Osprey Lake, Oyster Lake, Little Lake, Wild Dilly Pond, and Moon Rock Pond. Its type locality, the place where it was first identified, is at Crescent Pond, which is located 1 km southeast of the Gerace Research Centre on San Salvador Island. The coordinates for the type locality are latitude 24°06'45″N and longitude 74°27'28″W.
Habitat
This genus of aquatic organisms, Cyprinodon, does not have any particular habitat preferences beyond the typical littoral habitats. While it is sometimes found in wigeongrass (Ruppia maritima) patches, it is not limited to this type of environment. This species coexists with the closely related species C. variegatus in all six lakes and with C. desquamator in four of them.
Although Cyprinodon species are found in a diverse range of environments such as freshwater rivers and lakes, brackish estuarine waters, isolated springs, and hypersaline lagoons, they typically feed on algae and organic detritus and exhibit allopatric patterns of distribution. However, those found in San Salvador and Lake Chichancanab in Quintana Roo state, Mexico have evolved into multiple species that coexist and exploit specific resources with distinct morphological adaptations, as described in the notes.
Unfortunately, some of the species in Lake Chichancanab are now extinct in the wild due to the introduction of tilapia (Oreochromis spp.) and Astyanax affinis during the 1990s. Martin and Wainwright (2013b) caution that a similar situation could occur in San Salvador since Oreochromis is already present in at least two bodies of water.
Maximum Standard Length
The largest individual known to date measured 36.1 mm.
Diet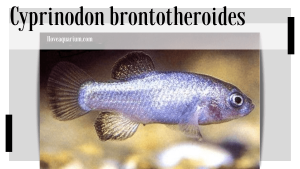 The species in question is a specialized durophage, meaning it is a predator that feeds on hard-shelled invertebrates, specifically gastropods and ostracods. To aid in this behavior, the species has adapted its jaw morphology to generate greater force and effectively crush shells.
Reproduction
Breeding territories in midwater, located at depths between 0.5 and 1 meter, are guarded by males of this species. Although breeding behavior has been observed throughout the year, it appears to be most prevalent during the spring season.
Before its formal description, this species was referred to as C. sp. 'durophage' or C. sp. 'bozo'.
One of the distinguishing features of this species is that the anterior process of the maxillary head extends up to, or beyond, the most anterior point on the dentigerous arm of the premaxilla, resulting in a shorter upper jaw when compared to C. variegatus and C. desquamator. This skeletal extension can be observed as a fleshy protuberance that nearly encases the upper jaw when it is retracted.
In addition, this species has paired nasal bones that are not enlarged, but form a more acute angle of approximately 120 degrees with the dorsal margin of the neurocranium compared to C. variegatus and C. desquamator.
As no other Cyprinodon species are known to feed on hard-shelled prey, extensive research has been conducted to determine whether unique mechanisms have driven the evolution of this ecological novelty. Further information on this subject can be found by clicking here.
References
Martin, C. H. and P. C. Wainwright, 2013b – Bulletin of the Peabody Museum of Natural History 54(2): 231-240
Remarkable Species Flock of Cyprinodon Pupfishes Endemic to San Salvador Island, Bahamas.
Martin, C. H. and P. C. Wainwright, 2013a – Science 339(6116): 208-211
Multiple Fitness Peaks on the Adaptive Landscape Drive Adaptive Radiation in the Wild.
Martin, C. H. and P. C. Wainwright, 2011 – Evolution 65(8): 2197-2212
Trophic novelty is linked to extremes rates of morphological diversification in two adaptive radiations of Cyprinodon pupfishes.
Missing information here? Our Knowledge Base is an ever-evolving work in progress, which naturally means that some species profiles contain more information than others. We're working on a daily basis to fill in all the gaps, so please have patience. This site relies heavily on the help of hundreds of people without whose valuable contributions it simply wouldn't exist. Information and photos regarding any freshwater or brackish fish species, its natural history or captive care is always much appreciated, so if you've anything you'd like to share please leave a comment below or email us.