Etymology
Altus: from the Latin altus, meaning 'high, deep'.
Classification
Order: Characiformes
Family: Acestrorhynchidae
Distribution
The type locality of this species is situated at Rio Arari, in Cachoeira do Arari, which is located in the Ilha de Marajó region of Pará State, Brazil. Initially, it was believed that this species was also present in the lower Parana and Uruguay river basins across Brazil, Paraguay, Argentina, and Uruguay. However, subsequent research has led to the identification of these populations as a distinct species called A. pantaneiro. As a result, it is likely that A. altus is limited to the lower Amazon and some of its tributaries. Despite ongoing research, uncertainty regarding the exact identities of this and certain other closely-related species in the genus has made it challenging to determine the full extent of its range.
Habitat
This species can be found inhabiting the primary river channels as well as tributaries. During the wet season, it is common for them to migrate towards flooded areas.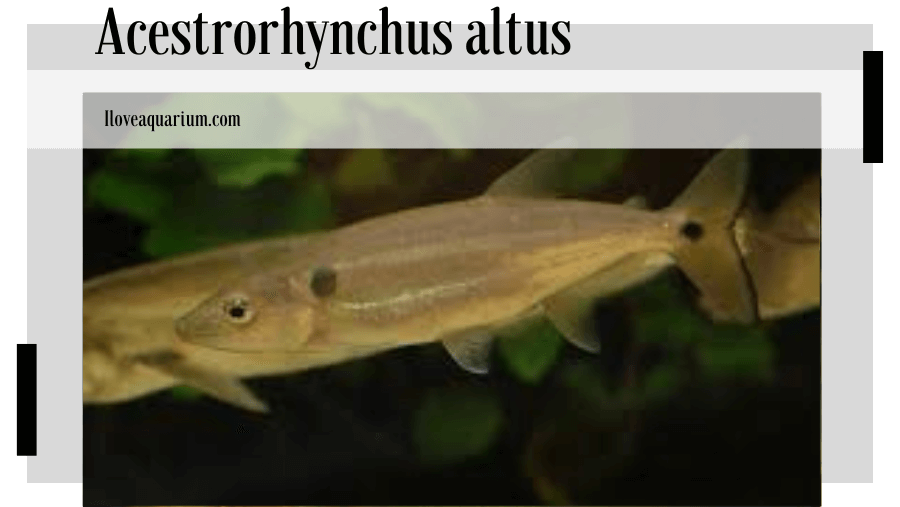 Maximum Standard Length
The largest officially-recorded specimen measured 233 mm.
Aquarium Size
In order to provide adequate long-term care for Acestrorhynchids, it is essential to provide a tank with a minimum base size of approximately 250 x 90 cm, as they are known for their high activity levels and remarkable swimming speed. Even juvenile specimens require a considerable amount of space, as they can exhibit skittish behavior in smaller tanks and may inadvertently injure themselves by colliding with the tank walls.
Maintenance
This particular species is typically found in open waters and is best kept without excessive cover, as too much can actually cause stress. Therefore, it is recommended to leave the majority of the tank decor-free with ample open space. For a more natural effect, a sandy substrate can be used, possibly with some leaf litter and driftwood branches or roots. If desired, plants that can grow in sand or attach to solid surfaces, such as Microsorum pteropus, Taxiphyllum barbieri, or Anubias spp. can also be added, with lighting adjusted accordingly. For deeper tanks, emergent branches or plants can be added to create a stunning effect. Given that acestrorhynchids are powerful jumpers, it is crucial to use a tightly-fitting cover. When keeping predatory species, efficient filtration is a must due to the significant amount of waste produced. It is recommended to install one or more external canister filters and/or a sump system, with the return organized in such a way as to create some surface movement. Regular water changes of 30-50% each week are essential, as this species can be sensitive to organic pollutants and fluctuations in water chemistry. Consequently, it should never be introduced to a biologically immature set-up.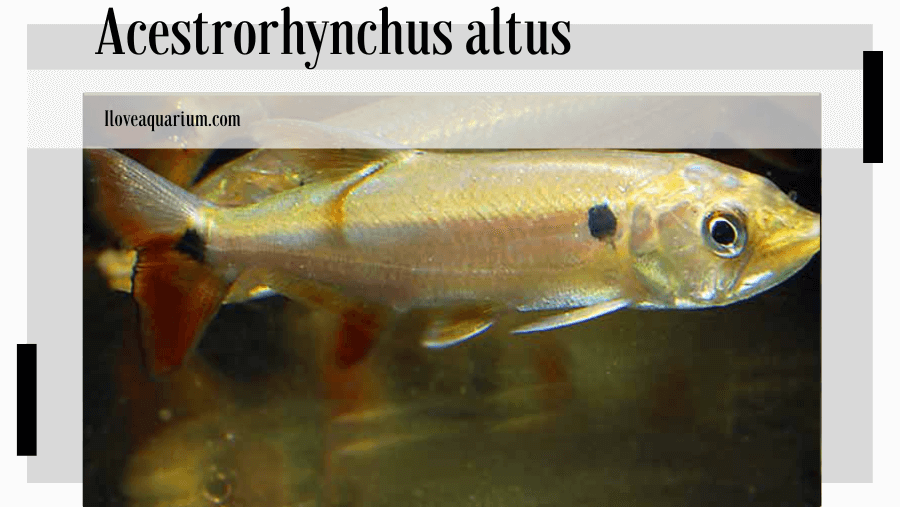 Water Conditions
Temperature: 22 – 28 °C
pH: 6.0 – 7.5
Hardness: 18 – 215 ppm
Diet
This species is an obligate piscivore and is capable of consuming relatively large prey in proportion to its body size. Newly-imported specimens may only accept live fish as food, but they can usually be trained to consume dead alternatives once they recognize them as edible. Some individuals may even learn to accept dried foods. It is important to note that like most predatory fish, this species should not be fed mammalian or avian meat such as beef heart or chicken. Some of the lipids present in these foods cannot be efficiently metabolized by the fish, potentially leading to the development of excess fat deposits and organ degeneration. Additionally, there is no nutritional benefit to using "feeder" fish like livebearers or small goldfish, as they carry a risk of introducing parasites or diseases. Furthermore, these fish typically lack high nutritional value unless they are properly conditioned beforehand.
Behaviour and Compatibility
This species is generally peaceful with tankmates that are too large to swallow, and can be kept in a community setting as long as the other fish are chosen carefully. Aggressive and territorial species should be avoided, with the best options being calm fish such as Geophagus spp., Acarichthys heckelii, medium-sized doradid or loricariid catfish, and characids from genera like Ctenolucius, Mylossoma, or Myloplus. This species is typically not aggressive towards its own kind, with juveniles in particular exhibiting a strong schooling instinct. While older individuals tend to be more solitary, they still group together occasionally, and it is best to keep them in groups of four or more. It is essential to note that acestrorhynchids are cannibalistic given the opportunity. Therefore, when purchasing a group or adding to an existing school, it is important to ensure that all individuals are of similar size.
Sexual Dimorphism
Sexually mature females tend to grow a little larger and be deeper-bodied than males.
Reproduction
Based on observations of the related species A. falcatus, it is believed that spawning for this species occurs in midwater. During this process, the female remains stationary while the male swims around her in a "figure-of-eight" pattern. The eggs are scattered in large quantities, and there is no parental care provided.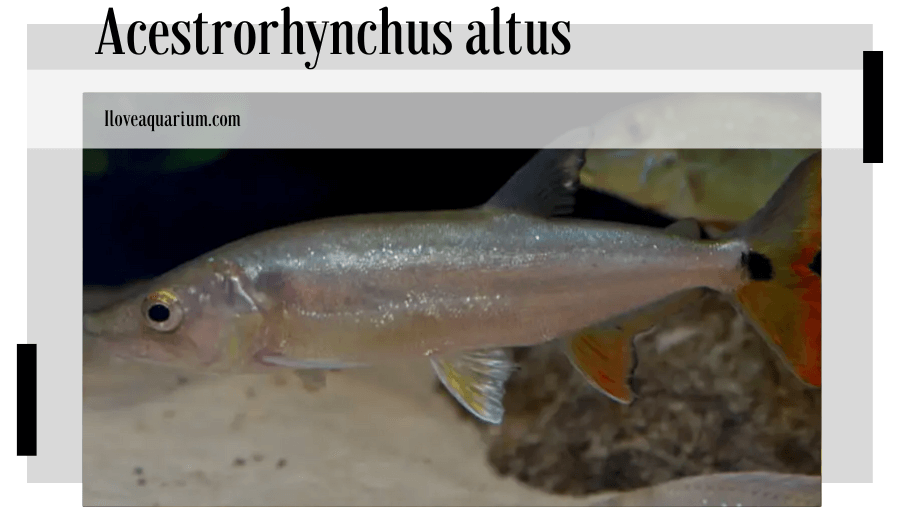 Notes
This species belongs to the A. lacustris group of closely-related species within the genus, which also includes A. abbreviatus, A. lacustris, and A. pantaneiro. All of these species share a blackish, more or less circular-shaped humeral spot, which is located just behind the gill cover. This distinguishes them from A. falcatus, which has a much larger marking shaped like an inverted teardrop. Members of this group are occasionally available in the aquarium trade, but unless collection data is known, they are difficult to differentiate from each other. The specimens in the images above were collected near the type locality and are tentatively identified as A. altus.
Menezes (1969) diagnosed A. altus using a combination of characters, including 2 spinous and 9 soft dorsal-fin rays, 5 spinous and 21-27 soft anal-fin rays, 15-19 pectoral-fin rays, 8 ventral-fin rays, 98-115 pored lateral-line scales, 27-34 scale rows between lateral line and dorsal-fin origin, 15-18 scale rows between lateral line and anal-fin origin, 20-27 rakers on the lower part of the first gill arch, and a conspicuous, nearly round black blotch at the caudal-fin base.
Recent morphological (Toledo-Piza, 2007) and molecular (Pretti et al., 2009) phylogenetic studies have been unable to recover the exact relationships among the A. lacustris group plus A. falcatus, which appear to form a clade with the latter basal and sister to the rest. Acestrorhynchus species cannot always be differentiated based on morphology and are also genetically very similar. This has led Pretti et al. (2009) to conclude that a thorough revision of the group, incorporating material collected across their distribution range, is needed to better understand their systematics.
The rest of the genus is currently divided into the A. microlepis group (A. britskii, A. grandoculis, A. microlepis, A. minimus), the A. nasutus group (A. falcirostris, A. nasutus, A. isalineae, and possibly A. maculipinnis), and A. heterolepis, which cannot be assigned to any group.
The Acestrorhynchidae family is most closely related to the Cynodontidae, which includes the genera Cynodon, Hydrolycus, and Rhaphiodon.
References
Menezes, N. A., 1969 – Arquivos de Zoologia (São Paulo) 18(1-2): 1-150
Systematics and evolution of the tribe Acestrorhynchini (Pisces, Characidae).
Géry, J., 1977 – T.F.H. Publications, Inc.: 1-672
Characoids of the World.
López-Fernández, H. and K. O. Winemiller, 2003 – Ichthyological Exploration of Freshwaters 14(3): 193-208
Morphological variation in Acestrorhynchus microlepis and A. falcatus (Characiformes: Acestrorhynchidae), reassessment of A. apurensis and distribution of Acestrorhynchus in Venezuela.
Prettia, V. Q., D. Calcagnottoa, M. Toledo-Piza and L. F. de Almeida-Toledo, 2009 – Molecular Phylogenetics and Evolution 52(2): 312–320
Phylogeny of the Neotropical genus Acestrorhynchus (Ostariophysi: Characiformes) based on nuclear and mitochondrial gene sequences and morphology: A total evidence approach.
Reis, R. E., S. O. Kullander and C. J. Ferraris, Jr. (eds.), 2003 – EDIPUCRS, Porto Alegre: i-xi + 1-729
Check list of the freshwater fishes of South and Central America. CLOFFSCA.
Toledo-Piza, M., 2007 – Zoological Journal of the Linnean Society 151(4): 691–757
Phylogenetic relationships among Acestrorhynchus species (Ostariophysi: Characiformes: Acestrorhynchidae).